Pdf text scanner (en)
Now it's here: The cheap and efficient "Let's clear the basement of all those old papers" – robot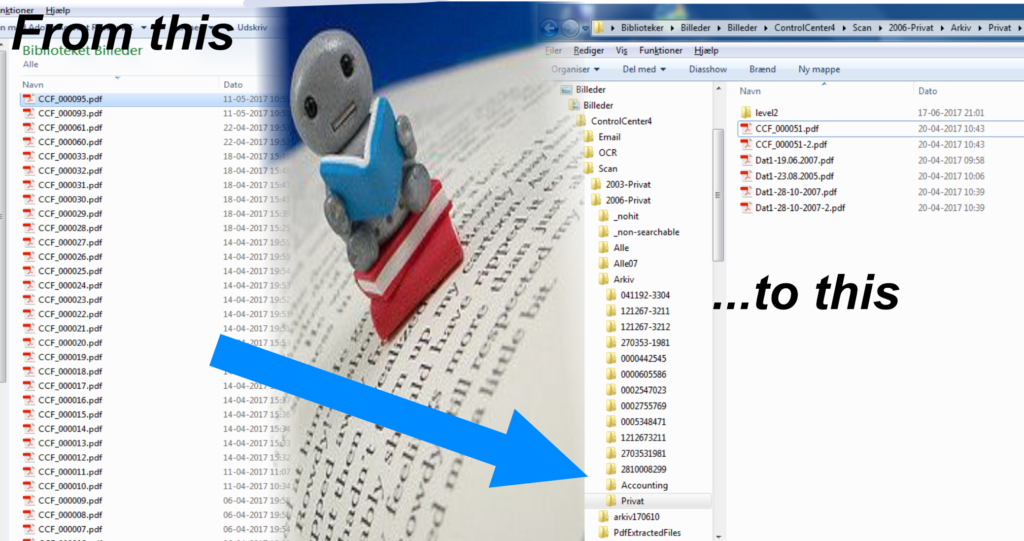 Scanning and automatic filing
Is your basement filled with documents? And haven't you got the time to evaluate if they should stay or go? Or even more importantly: If they contain sensitive or personal data, and must be run through the shredder as you might no longer have the right to keep them? Tasks like these are often postponed as the only people who can evaluate the content are the ones that don't have the time.
Don't despair – help is nearby: InfoShare has developed a system for almost automatic filing of scanned versions of paper documents. And it's cheap! Our PdfTextScanner program just needs to be fed searchable pdf-files and then the documents are sorted into relevant folders based on the content you find relevant. Even the name of the file can be automatically changed, for instance from a found date in the document. The PdfTextScanner is impressively fast – in fact it takes more time to run the papers through the shredder afterwards.
You can easily make searchable pdf-documents by using most of the standard scanners on the marked and a good OCR program like ABBYY FineReader – it even comes free in a sufficient version with some scanners.
This solution is primarily intended for sorting of documents with a social security number or other unique personal identifiers, to help you minimize the risk you'll be running by keeping documents with personal identifiable information. Equally important is to delete outdated personal identifiable information, no matter if they are in digital form or on paper. This solution finds anything that matches the pattern of a social security number and places it in a relevantly named folder, making it easier to decide if it should be kept, deleted or eaten with warm milk.
This automatic filing isn't just for social security numbers – it can be used for anything that you can describe with a so called "regular expression". And that's just about anything: E-mails, phone numbers, zip-codes, etc. The system comes with relevant samples and a guide. And InfoShare can always provide help with further expressions.
Further information from Arne Skov, InfoShare, P: +45 38 80 60 10, E: admin@infoshare.dk